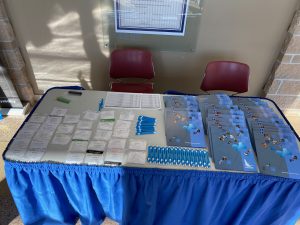 36 people spent part of their Valentine's day at Winter Professional Development Workshop held at Blackhawk Technical College. The workshop was FREE to WACADA members in good standing. The theme of this workshop was "Fall Back in Love with Academic Advising."
If you couldn't make it…no worries!  In your WACADA portal you will see a "Past Events" tab on the menu bar. This where you find the links to hot topic discussions and Keynote presentation from this event.
If you didn't hear the rumors already there was a power outage at Blackhawk. Right when the LIVE zoom Keynote Speaker was ready to start. So we had continued our learning with our cell phone flash lights and flood light illuminated lunch. Thanks to mother earth for the natural light in the dining hall for Dr. Melissa Lantta to give her Keynote speech as planned. Everyone was safe and we had blast really.
Hopefully we will see more of you in May at Mid-State Technical College for the Spring Professional Development Workshop. Be sure to save-the-date, Tuesday, May 19th, 2020.
To stay connected to considering joining us on social media:
Facebook, WACADA Page
Linked In, WACADA Group
Twitter, Follow @WACADAWisconsin