By Rebecca Kurter
It's no secret that statistically first-generation and underrepresented students have a lower retention and graduation rate than their counterparts. Many different efforts across a variety of college campuses are being done to close the opportunity gap happening at their institution.
Post-Transition Coordinators with Carmen Schools of Science and Technology work with each individual student at their college to make sure they are successfully completing their semesters and on track for graduation. The post-transition role plays a large part in helping Carmen Schools fulfill their mission to "graduate all students as critical thinkers and self-directed learners who are prepared for success in college, meaningful careers, and community involvement and family life." For the last 8 years, Carmen's college retention average is 73% because of the unique approach we take to making sure college graduation is an attainable goal for our students.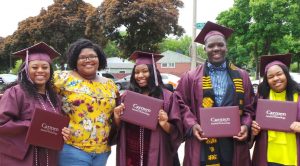 Navigating College Enrollment & Preventing Summer Melt
My colleagues and I assist the high school seniors at our respective high school campuses with the financial aid and college enrollment process. Doing this allows us to build relationships with the students and gain a strong understanding of their financial aid situation. Once they graduate from high school, we make sure to prevent summer melt by checking in often and making sure they have transportation plans to their orientation. We then visit our now college freshmen at their colleges within a 3-hour radius of Milwaukee during the first week of classes. This allows us to see if they are enjoying their college, starting to create plans to get involved, know a campus staff member to go to if they have an issue, and that they have the supplies they need to guarantee academic success.
Individual Check-Ins
We offer online services for students to schedule check-ins with us wherever is most convenient for them. That could be at a cafe, back at their high school, or even their home. Additionally, we make at least one visit to their college per semester. We offer opportunities for our students to meet with us on multiple things, such as:
• FAFSA renewals and verification
• Review of academic progress and graduation plan
• Post-undergraduate degree planning
• Social/Emotional support
• Time management
• Budgeting
• Employment opportunities
Our goal is to help them develop problem-solving skills that they can use to handle future obstacles.
Partners In Student Success
Partnering with our advising colleagues in the colleges has been an asset in helping students be successful. The students seek our help and trust us as a result of having worked with us during their high school career. We found that when we can refer a student to a college staff member by name or help introduce them to a specific college resource, they are more likely to follow through with those opportunities.
There are college access nonprofits that offer similar advising resources as Carmen does. If we have a student that graduated from one of our high schools and is part of their organization, we work together and communicate to make sure the student receives clear information and support.
We are dedicated to our graduates and cannot wait for them to become graduates from your college!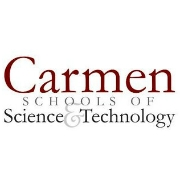 Rebecca Kurter | Post-Transition Coordinator
(Northwest Campus)
Office: 414-837-4000 x161
Email: ​kurterrebecca@carmenhighschool.org