Professional Development Workshops
Please save the date for the following WACADA Professional Development opportunities!
Upcoming Professional Development Workshops:
(Membership is required. If you are not a paid WACADA member, you will be required to submit membership dues. Professional Development Workshops are FREE to paid WACADA members only.)
Strengthening Virtual Connections
(Click here to view the program)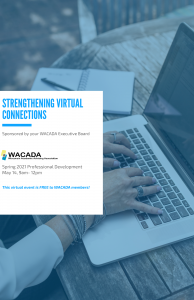 Greetings, 
We are 31 days away from spring and we are excited to announce that WACADA's Executive Board will be hosting this year's Spring Professional Development Program. This VIRTUAL Spring Professional Development is scheduled for Friday, May 14th, 2021 from 9:00 am to 12:00 pm. The theme for the 2021 Spring Professional Development is "Strengthening Virtual Connections." Save the date! A registration link will be emailed to you the first week of March. 
WACADA professional development opportunities are FREE to WACADA members! If you are not a current member and would like to attend, please register for the annual membership for a $20 fee. Any questions about membership, please email Ann Hintz, VP of Membership at ann.hintz@snc.edu. 
We are looking forward to a great Spring Professional Development Program, which is only made possible with your willingness to share your best practices. The call for proposals is open with a deadline of Friday, April 16th, 2021. If interested in learning more about presentation topics please go to CALL FOR PROPOSALS FORM.
Is presenting at a conference one of your goals? This is your opportunity to share your knowledge, skills, and passion in a relaxed supportive environment.
Who should submit a presentation proposal? ALL WACADA Members! Advisors, coaches, coordinators, counselors, career development specialists, graduate students, faculty advisors, faculty, administrators, researchers – we want to hear from you!
We look forward to your proposals and hope to "see" many of you on Friday, May 14th!
Regards,
WACACA Executive Board