Happy New Year!
We're starting a new decade. This time of year we are goal setting and making New Year resolutions. I want to take this moment to reflect on how 2019 ended.
Past
In September out Annual Conference was held at Gateway Technical College-Kenosha Campus. We had not one but two keynote speakers, esteemed Benjamin Forche was keynote speaker on Thursday who spoke on Appreciative Advising. Friday's keynote we had the pleasure of having Dr. Joyce Walsh Portillo. As always, the conference was a time for us to recharge our energy through presentations, learning best practices, and networking. A special thanks goes to the WACADA Planning Committee for all their hard work in planning, implementing, and accomplishing another successful conference.
The WACADA Conference was also a time to recognize several members who received awards and were elected to positions on the executive board.
WACADA 2019 Award Recipients
Advising Excellence Award: Erika Anna​, UW-Madison & Kay Wagner​, Madison College
Advising Profession Impact Award: Laurie Kuehn​, Moraine Park Technical College​
Faculty Advisor Excellence Award: Dr. Tim Gleason, UW-Oshkosh
Foundation Award: Sara Depies​, Concordia University Wisconsin​
Outstanding Achievement Award: Meghan Clark​, UW Oshkosh
Advising Profession Impact: Ariel Powers-Schaub​, UW Extended Campus
Peer Advising: Millicent Gichuhi​, Fox Valley Technical College
Graduate Student Award: Kelsi Faust, UW-Milwaukee
You all voted on WACADA 2019-2022 executive board positions the official results were:
President Elect: Tiffany Kelly, Blackhawk Technical College
Vice President of Programs: Olivia Navarro, Gateway Technical College
Vice President of Membership: Ann Hintz, St. Norbert College
Faculty Representative: Annie Stinson, UW-Whitewater
Secretary: Sara Gomez, Madison Area Technical College
Graduate Student Representative: Cole Pinno, UW-Milwaukee
Now
2020 is here you can look forward to the following events:
Be sure to mark your calendar for the following important dates:
Registration: Click HERE to Register
Call for Proposals: Click HERE to Submit your Proposal on or before Monday, January 6th.
Future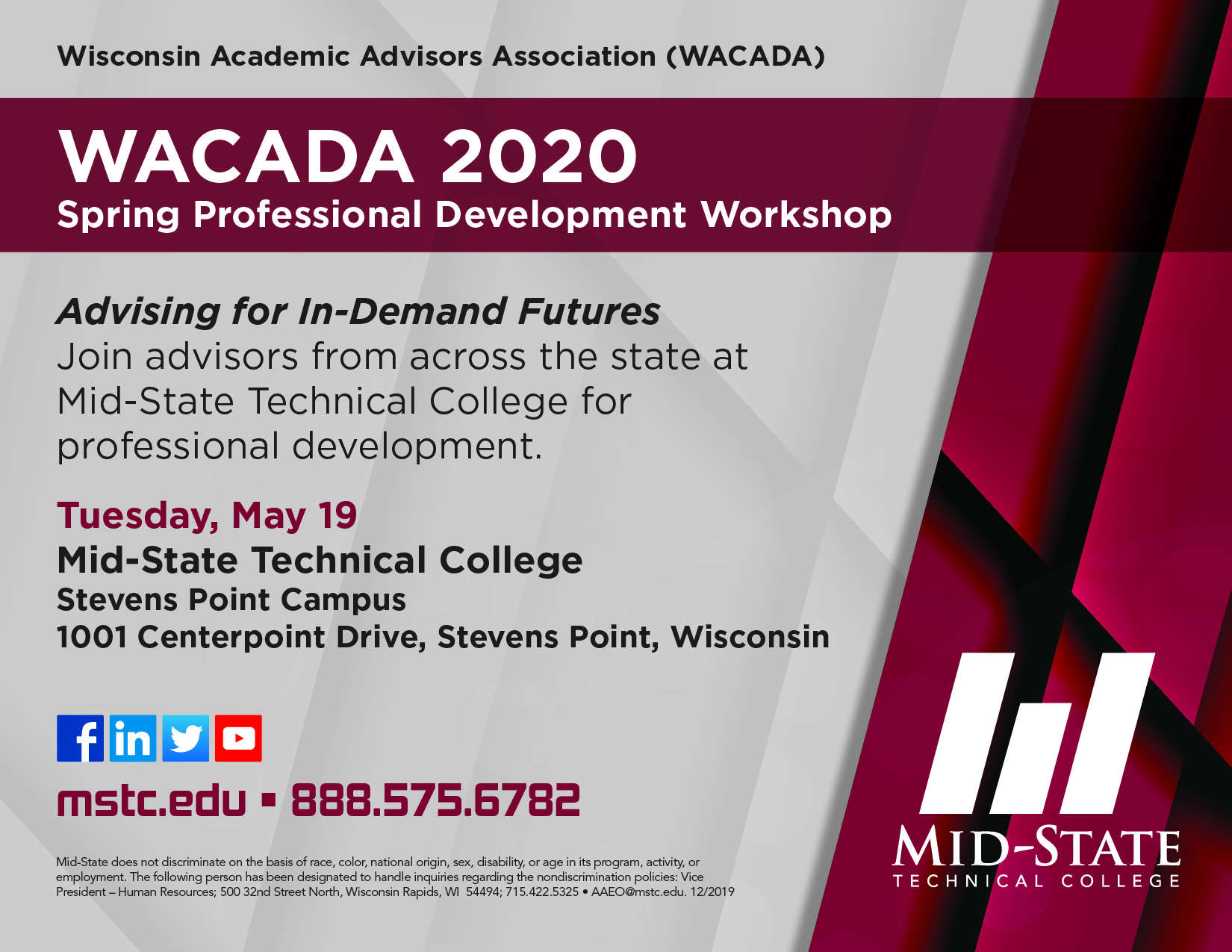 Spring Professional Development Workshop, Tuesday, May 19, 2020 at Mid-State Technical College: Stevens Point Campus
Annual Conference, September 24-25, 2020 at University of Wisconsin-Superior
If your institution is interested in hosting a WACADA event, please complete this form.
Thank you all for your strong commitment to WACADA and for making WACADA what it is. Without our collective effort and energy, WACADA would not be what it is.