Written By: Dr. Anne-Marie Lerner, UW-Platteville
When embarking on a new faculty role, learning about the advising expectation of undergraduates can be overwhelming. Some colleges have exceptional training opportunities for new or experienced faculty advisors, which can be extremely helpful. In addition to this resource, the following list contains some helpful tips for new faculty advisors to ease the transition into the field as well as reminder tips for experienced faculty advisors to keep in mind.
Tip 1: Gather Your Resources/Attend Faculty Advising Professional Development Sessions
Faculty Advisors who have an interest in advising could first check with their supervisor and/or Academic Advising Director or Dean to see if there is Faculty Advising Professional Development opportunities and how to participate. Many of these faculty training sessions may have an opportunity to learn about college resources available for students, major/program curriculum information, important sequence information, as well as an opportunity to meet advisors from various schools/colleges.
Here are some resources to consider:
Tip 2: Ask Questions & Seek to Learn
Navigating all the resources available to you can be overwhelming and time-consuming. While you're learning the policies and procedures of your institution, make sure to meet with your faculty mentor. If one hasn't been assigned to you, seek out senior members who are willing to serve as an informal advising mentor. Don't be afraid to tell a student, "I am excited to hear about your question. I am a new advisor. I will be conferring with my colleagues, and I will get back to you as soon as possible with an answer." You learn by asking the questions of your colleagues, and you build trust and rapport with your students when you get back to them with the information they need. Asking questions and staying curious are integral to advising.
Tip 3: You Know More Than You Think
While students come to their advisor for assistance navigating the academic bureaucracy, most would really like to have more impactful conversations with their advisor – why should I do an internship? What's a study abroad like? Should I go to grad school? What will my future career look like? Why did you make the career decisions you did? A lot of the time they're looking for someone who has been there before, as you have, who can reassure them and provide guidance. If you are willing to share, that will go a long way toward forging a strong advising relationship.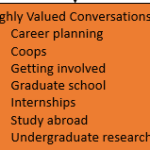 Tip 4: Open Up and Share
Empathy is the name of the game in advising. If you are comfortable sharing your story, please do so. That is a very important part of the trust-building portion of advising, a foundational step toward a healthy advising relationship.
Tip 5: Know When and How to Refer
There are always important boundaries to recognize in advising – you can't be all things to all students. When you come to that limit, outsource to another office! Mental health services, the Registrar, the Dean of Students, etc, are all important resources to have in your back pocket. It is always a good idea to create and maintain partnerships across the college.
Tip 6: Have a Process
With the previous tips in mind, there is a little formula that can help you develop successful relationships and advising experiences, all while managing the rest of your work load! It's a three-step process: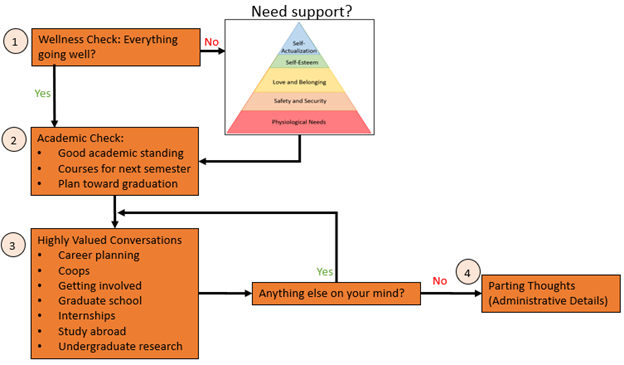 Start with Step 1, a quick wellness check. Why? We know from Maslow's hierarchy (see the colorful pyramid) that learning – self-actualization – occurs only when other, more fundamental needs are met. The good news is that your campus probably has resources to address those needs; this is where gathering those tools becomes important.
Step 2, the academic check, is what most of us think of as advising, but really, it's perhaps the most trivial portion of the relationship.
Those highly valued conversations, Step 3, are where your experience as a prior undergraduate, working professional, graduate student, and professional in the field can really come into play.  And finally, you close it out with an "exit ticket", usually in the form of a registration pin number.
Welcome to the world of advising! You'll find that, like teaching, the relationships you develop in this setting are highly rewarding. Your ability to help a student be successful is more impactful. Good luck using your resources, and developing into a highly skilled, empathetic advisor!